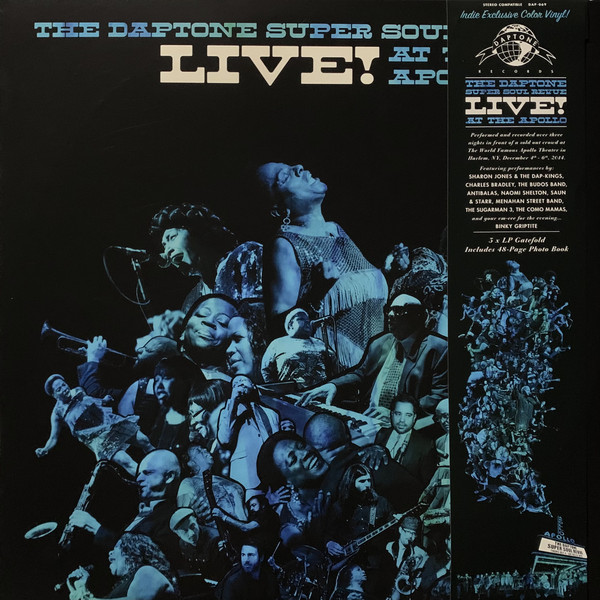 VA - The Daptone Super Soul Revue-Live! At The Apollo (DOLP)
Info / Tracklisting: Live! Harlem, NY, 4. - 6. Dezember 2014
Produktinformationen "VA - The Daptone Super Soul Revue-Live! At The Apollo (DOLP)"
Performed and recorded over three nights to a sold-out crowd at the World Famous Theater in Harlem, NY, this album brings the electrifying performances that put Daptone on the map right into your living room! Featuring live performances by: Sharon Jones and the Dap-Kings, Charles Bradley and his Extraordinaires, Naomi Shelton and the Gospel Queens, Antibalas, The Budos Band, Menahan Street Band, Saun & Starr, The Sugarman 3 and our host Binky Griptite.
This album is lovingly dedicated to the memory of our dear friends Sharon, Charles, Naomi and Cliff.
Tracklisting:
A1 The Dap-Kings – Introduction By Binky Griptite
A2 Saun & Starr With The Dap-Kings – Hot Shot
A3 Saun & Starr With The Dap-Kings – Confess It
A4 Saun & Starr With The Dap-Kings – In The Night
A5 The Sugarman – Witch's Boogaloo
A6 The Sugarman – Love Went Away

B1 Naomi Shelton & The Gospel Queens – Thank You Lord
B2 Naomi Shelton & The Gospel Queens – Stranger
B3 Naomi Shelton & The Gospel Queens – Higher Ground
B4 Menahan Street Band – Make The Road By Walking
B5 The Como Mamas – Out Of The Wilderness

C1 Charles Bradley – Heartaches And Pain
C2 Charles Bradley – The World (Is Going Up In Flames)
C3 Charles Bradley – Lovin' You, Baby
C4 Charles Bradley – Slip Away
C5 Charles Bradley Featuring Menahan Street Band – How Long

D1 Charles Bradley – Let Love Stand A Chance
D2 The Budos Band – The Sticks
D3 Charles Bradley Featuring The Budos Band – Ain't It A Sin
D4 Antibalas – Sáré Kon Kon Pt. 1

E1 Antibalas – Sáré Kon Kon Pt. 2
E2 The Dap-Kings – Miss Sharon Jones' Intro
E3 Sharon Jones & The Dap-Kings – He Said I Can
E4 Sharon Jones & The Dap-Kings – If You Call
E5 Sharon Jones & The Dap-Kings – Tell Me
E6 Sharon Jones & The Dap-Kings – Get Up And Get Out

F1 Sharon Jones & The Dap-Kings – Making Up And Breaking Up (And Making Up And Breaking Up Over Again)
F2 Sharon Jones & The Dap-Kings – I'm Not Gonna Cry
F3 Sharon Jones & The Dap-Kings – Calamity
F4 Sharon Jones & The Dap-Kings – Every Beat Of My Heart
F5 Sharon Jones & The Dap-Kings – There Was A Time
F6 The Daptone Family – Family Affair / Outro
Release Date:
2021
Label:

Daptone Records

Genre:

Soul/Funk

Warengruppe:

DOLP