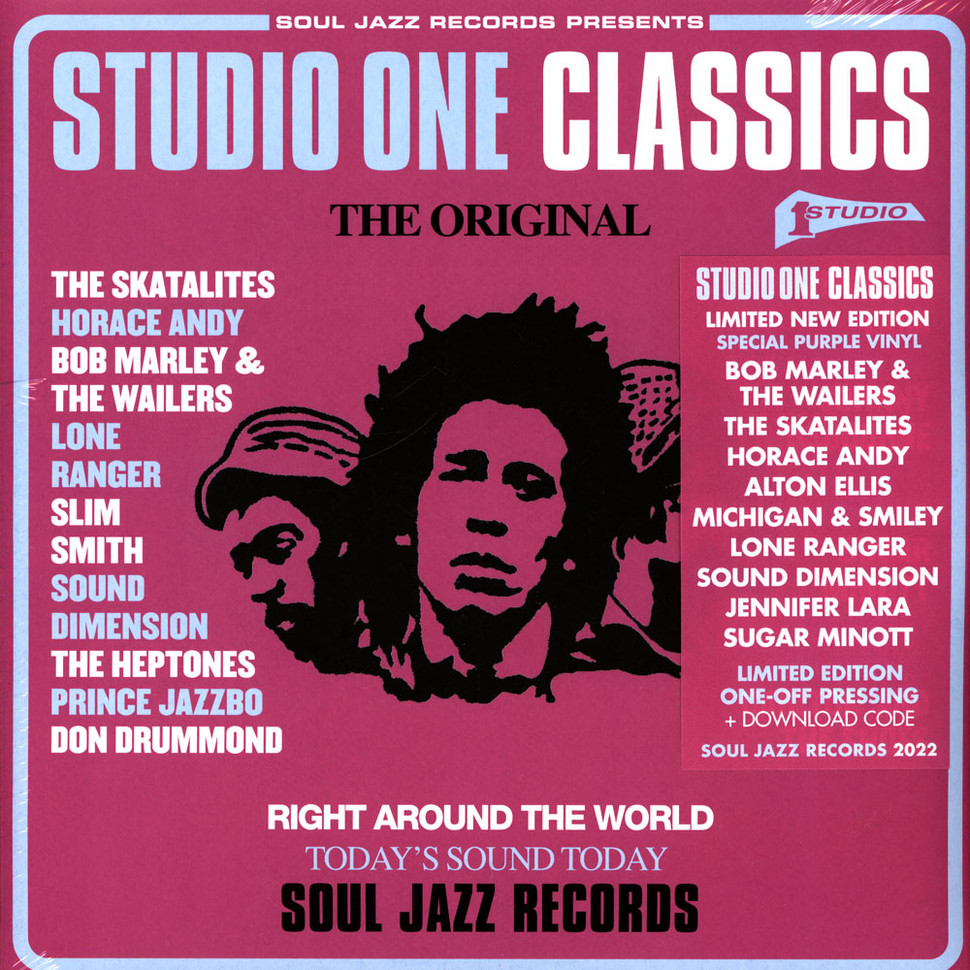 VA – Studio One Classics (DOLP)
Produktinformationen "VA – Studio One Classics (DOLP) "
Soul Jazz Records' new 20th anniversary one-off limited-edition heavyweight special-edition purple coloured double vinyl pressing + download code and striking 'Wailers' alternative gatefold sleeve only available for Record Store Day 2022.

Studio One Classics features a non-stop selection of stone-cold classic Studio One killers! Spanning 40 years of the legendary label, this album is a celebration of the music of Studio One Records and features a who's who of Jamaican Reggae: Bob Marley, The Heptones, Horace Andy, Sugar Minott, Don Drummond, Prince Jazzbo & more.
This collection contains numerous legendary tracks, including Bob Marley and the Wailers' "Simmer Down"," "Love Me Forever" by Carlton & His Shoes, Slim Smith's "Rougher Yet," Horace Andy's "Fever,", Alton Ellis's "I'm Just A Guy', The Skatalites' blazing 'Confucious' and loads more. Timeless stuff - every track here is indeed a classic, no-one can argue about that!
Studio One produced literally hundreds of hits and this selection includes some of the label's most enduring songs. Often described as both the University of Reggae, and the Motown of Jamaica, never were these phrases more apt than if we look at the number of artists who launched their musical careers at Studio One. It is simply impossible to imagine modern Jamaican music without Clement "Coxsone" Dodd, founder of the iconic label, and virtually every singer and musician of note in Reggae cut their teeth at Studio One.
Studio One's output spans over four decades, all represented here. Coxsone Dodd pioneered nearly every new form of Jamaican music as it developed over time and this album includes Ska, Dancehall, Roots, Rocksteady, DJ, Lovers and more.
This is probably the best entry of the many Soul Jazz Studio One releases if you're after a primer in the Studio One sound. It's all here from the stomping Ska of the Skatalites to The Lone Ranger's Rub-a-dub stylee!
Like it says on the wrapper 'Classics' pretty much sums it up.
Tracklisting:
A1 The Skatalites – El Pussy Cat Ska
A2 Carlton And The Shoes – Love Me Forever
A3 Sound Dimension – Rockfort Rock
A4 Johnny Osbourne – Sing Jah Style AKA Sing-Jay Style
A5 The Heptones – Pretty Looks Isn't All

B1 Slim Smith – Rougher Yet
B2 Lone Ranger – Automatic
B3 Horace Andy – Fever
B4 Prince Jazzbo – Back To School
B5 The Wailers – Simmer Down

C1 Burning Spear – Rocking Time
C2 Alton Ellis – I'm Just A Guy
C3 Sugar Minott – Oh Mr. D.C.
C4 Jennifer Lara – Consider Me

D1 Don Drummond – Confucious
D2 Michigan & Smiley – Rub A Dub Style
D3 Sound Dimension – Full Up
D4 Dennis Brown – No Man Is An Island
Release Date:
2022
Label:
Soul Jazz Records
Genre:

Reggae

, Rocksteady

, Roots

, Ska

Warengruppe:

DOLP