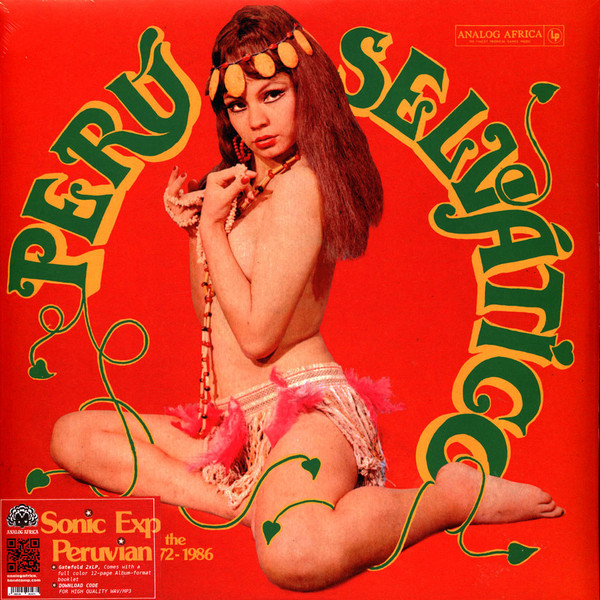 VA – Perú Selv​á​tico - Sonic Expedition Into The Peruvian Amazon 1972​-​1986 (DOLP)
Produktinformationen "VA – Perú Selv​á​tico - Sonic Expedition Into The Peruvian Amazon 1972​-​1986 (DOLP)"
Less than a hundred miles inland from the capital city of Lima lies the great Peruvian jungle, an untamed land of impenetrable forests and endless winding rivers. In its isolated cities, cut off from the fashions of the capital, a unique style of music began to develop, inspired equally by the sounds of the surrounding forests, the roll of the mighty Amazon and Ucayali Rivers, and the rhythms of cumbia picked up from distant stations on transistor radios. With the arrival of electricity, a new generation of young musicians started plugging in their guitars and trading in their accordions for synthesizers: Amazonian cumbia was born.
Powered by fast-paced timbale rhythms, driven by spidery, treble-damaged guitar lines, and drenched in bright splashes of organ, Amazonian cumbia was like a hyperactive distant cousin of surf music crossed with an all-night dance party in the heart of the forest. While many of the genre's greatest tracks were instrumental, and others were simple celebrations of life in the jungle, the goal of every song was to keep the party going.
Radio stations in Lima remained unaware of the new electric sounds emanating from the jungle, but a handful of pioneering
record producers ventured over the mountain passes to the cities of Tarapoto, Moyobamba, Pucallpa – even Iquitos, a city
reachable only by boat or plane – and lured dozens of bands to the recording studios of the capital to lay down their best
tracks. Although many became local hits, few were ever heard outside the Amazonian region … until now.
With eighteen tracks from some of the greatest names in Amazonian cumbia, Perú Selvatico is both the improbable soundtrack
to a beach party on a banks of the Amazon and a psychedelic safari into the sylvan mysteries of the Peruvian jungle.
Tracklisting:
A1 Los Royal's De Pucallpa– Descarga Royal
A2 Sonido Verde de Moyobamba– La Cervecita
A3 Los Zheros– Selva Virgen
A4 Grupo Siglo XX De Rioja– Moyobambina

B1 Los Invasores De Progreso– Humo En La Selva
B2 Los Cisnes– La Hamaca
B3 Fresa Juvenil De Tarapoto– Cumbion Universal
B4 Los Ranger's De Tingo Maria– La Trochita

C1 Los Invasores De Progreso– La Bola Bouche
C2 Ranil y Su Conjunto Tropical– Bailando En El Infinito
C3 Los Cisnes– Safari En La Selva
C4 Ranil y Su Conjunto Tropical– Baila Bonito
C5 Los Zheros– Alibaba


D1 Fresa Juvenil De Tarapoto– La Palmerita
D2 Sonido Verde de Moyobamba– Recordando A Aguaytia
D3 Grupo Siglo XX De Rioja– El Pasito De Miriam
D4 Los Cisnes– Rio Mar 2:34 D5 Los Zheros– La Uñita
Release Date:
2022
Label:
Analog Africa
Genre:

Latin

Warengruppe:

DOLP