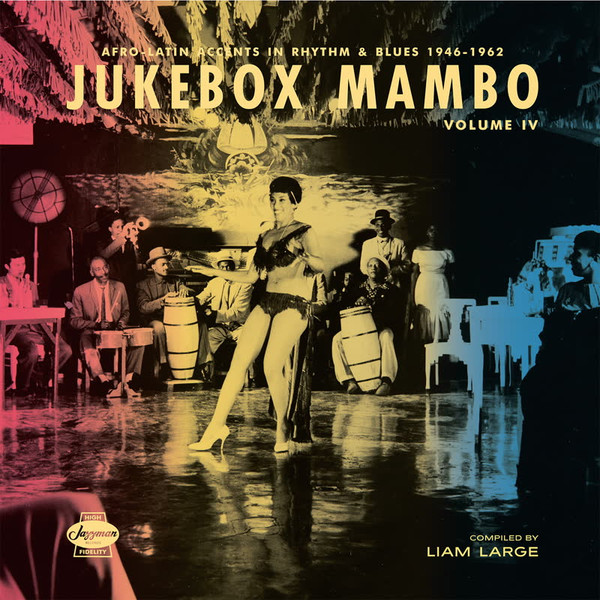 VA – Jukebox Mambo Volume IV: Afro-Latin Accents In Rhythm & Blues 1946-1962 (DOLP)
Sofort verfügbar, Lieferzeit 2-5 Tage
Produktinformationen "VA – Jukebox Mambo Volume IV: Afro-Latin Accents In Rhythm & Blues 1946-1962 (DOLP) "
Download card included.

Ten years after our initial survey of Afro-Latin accented rhythm & blues from the mid-century, Jazzman proudly presents a fourth installment, packed with as many musical surprises as the first. With music plucked from an era spanning the late 1940s into the early 60s, Jukebox Mambo IV highlights yet again the unparalleled musical creativity of the post war era, and shows how the infusion of afro-latin rhythms was key to these revolutions. Lovingly and painstakingly researched and curated, the album boasts 23 tracks, many previously uncompiled, touching on jazz, blues, doo wop, calypso, rock & roll, gospel and more. Featuring individual track notes for every song along with some never seen before photographs of the artists, Jukebox Mambo Vol IV maintains the same high production values of each previous volume, and indeed the wider Jazzman catalogue.

Tracklisting:
A1 Marie Knight And Sister Rosetta Tharpe– Calvary
A2 The Dundees Featuring Carlyle Dundee– Evil One
A3 The Heartbreakers– Wanda
A4 Helene Polite With The Dallas Redick Trio– Love For Sale
A5 Oscar Pettiford, His Cello & Quartet– Oscalypso
A6 Bixie Crawford With The Fletcher Smith Quartette– Go Way Blues

B1 Preston Love And His Orchestra– Ali Baba's Boogie
B2 Mamie Ree And Jake Porter– I Wake Up Early In The Morning
B3 Monchito And His Orchestra– Caldonia
B4 Betty Mattson– What Is This Thing Called Love
B5 Effie Smith And John Criner Orch– Mambo Blues
B6 Titus Turner– Big Mary's

C1 The Blasts– Canaveral Rock
C2 The Royals– I Want You To Be My Baby - Mambo
C3 Eunice Davis– My Beat Is 125th Street
C4 Frank Butler– Girl Of My Dreams
C5 Mr. Bo– Heartache & Troubles
C6 Otis Smith– You're So Good Looking

D1 The Dukes Of Rhythm– Buddha's Boogie
D2 Innocentay– Voodoo Shango
D3 Lawrence Stone– Dark Of Night
D4 Lawrence Peel & The Filatones– Song Of Sadar
D5 Kiki Williams With The The Ellis Stukey Sextet– When Love Is New
Release Date:
2023
Label:
Jazzman
Genre:

Blues

, Jazz

, Latin

, R&B

, Rumba

Warengruppe:

DOLP