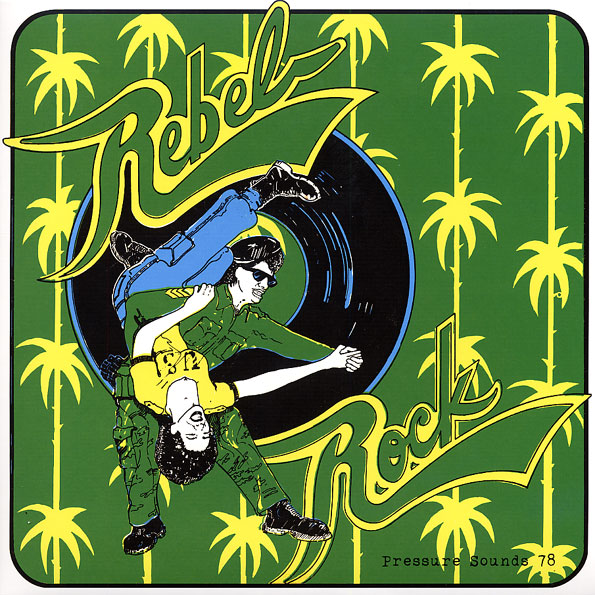 Third World Allstars - Rebel Rock (LP)
Info / Tracklisting:
Classic mid seventies instrumental Album. Led by Rico Rodriguez on Trombone, Eddie "Tan Tan" Thornton on Trumpet, Michael 'Bammi' Rose on Sax, Lester Sterling Trumpet and Saxophone.

An excellent set that is re-mastered, re-issued for the first time and available also on CD, too
Produktinformationen "Third World Allstars - Rebel Rock (LP)"
The basis of the Third World Allstars were in fact usually visiting Jamaican musicians plus a pick of the session me available in London. The instrumental album "Rebel Rock" derives the majority of its rhythms from Errol Dunkley's album "Sit And Cry Over You" released by Shelley produced and arranged, and probably engineered, by the great Sid Bucknor. For the instrumental version the overdubs and remixes were done at the Chalk Farm and E.F.M. (better known as Berry Street) studios with a credited line up of Rico Rodriguez on trombone, Eddie "Tan Tan" Thornton on trumpet, Michael 'Bammi' Rose on sax, Lester Sterling trumpet and saxophone, Buggis Norman on alto sax, "Organ D" aka Tyrone Downie on keys and "Ronnie Bop" aka Ranford Williams on guitar. The original backing tracks for the Dunkley album were by Gladdy Anderson & his All Stars so its likely that featuring bassist Jackie Jackson, drummer Winston Grennan, guitarist Hux Brown and keyboardist Winston Wright may be in the mix. The title track "Rebel Rock" was originally derived from Gene Rondo's single "Rebel Woman" issues by Shelly on his Queen Bee subsidiary in 1974 and the track that opens side two "Black Moon" is from the Ginger Williams single "There is Something in my Heart" issued on the Paradise label. As is usual when quality Jamaican sessioneers get together free quotes from jazz standards and ballads can be found interspersed with re-utilised rhythms, so "Repatriation Remedy" can not only be traced back to Errol Dunkley's "Repatriation" but also to Bunny & Skitter on their Studio one single "Lumumbo" and even before that Willie Bobo's "Spanish Grease".

As the seventies moved on Count Shelly relocated his operations to New York and eventually his Super Power Records in Brooklyn became the reggae shop of choice through the dancehall and digital eras, a meeting place for the movers and shakers of the time. Located on Church Avenue between Utica Avenue and E 49th Street in Flatbush, the shop became notorious as the scene of the shooting incident between deejays Super Cat and Nitty Gritty. Shelly continued to record with big hits such as Louie Rankin's "Typewriter" and Sluggy Ranks dancehall recut of "My Time". Becoming tired of NYC and business there Shelly relocated back home to Jamaica and around 2008 Super Power closed down due to financial problems.

Rebel Rock is an excellent addition to the Pressure Sounds catalogue and the album comes with CD booklet sleevenotes by Steve Barker and excellent pictures from the period.
Tracklisting:
A1 Black Moon
A2 For All Ways
A3 Just For You
A4 Train To Skaville
A5 Moog In Blues

B1 Rebel Rock
B2 Repatriation Remedy
B3 Our Dream World
B4 Patricia's Love
B5 Soothing In The Mind

Release Date:
1975 / re 2013
Label:

Pressure Sounds

Genre:

Reggae

Warengruppe:

LP