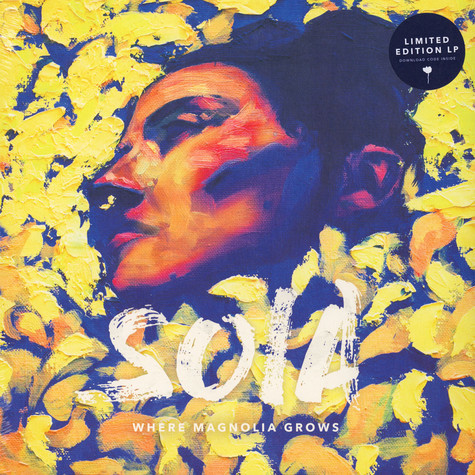 Soia – Where Magnolia Grows (LP)
Produktinformationen "Soia – Where Magnolia Grows (LP)"
SOIA's happy place is "Where Magnolia Grows". This is where her paradise lies, where she can bloom and blossom. Adorned with playful melodies, the soundtrack fuses HipHop, R&B, NuSoul and Jazz over saturated and ample beats. The downright lyrics offer deep insights into SOIA's soul. Together with her producer Mez she revives her musical roots of the nineties. The songs range between sensual soul and expressive contemporary R&B, neatly packed in a shell of electronic synths and keys. Throughout the nine tracks the beats make your head nod while SOIA's voice makes you close your eyes in delight.
The first track, a boom bap tune called RUN WITH WOLVES, gently introduces you to the album. In her paradise world she runs from nothing and determines her own pace. SOIA's high-pitched vocals are a deliberate alienation, a stylistic break from her two predecessor albums, which she also uses in HOE FOR LOVE and LOOMING STORM.
VACANT PARADISE employs deep 808 kick drums and rolling hi-hats. In PAY FOR PIZZA, SOIA not only shows her love for HipHop, but also urges everyone to pay for their bills them damn selves.
Released on Beat Art Department, a new sub-label of the well-renowned Munich-based record label Compost Records, WHERE MAGNOLIA GROWS is SOIA's third solo album. Her two previous albums MOOD SWINGS and H.I.O.P. were published by the Philadelphia-based label Record Breakin' Music.
Her pre-productions have been nominated for the Austrian music award Amadeus twice and enjoy a loyal international fan base. She has appeared live at festivals such as SXSW, Sonic Visions, Electric Spring, Waves Vienna or Popfest Vienna, as well as at numerous club gigs from Cape Town to Vienna. Thanks to NASOM programme (The New Austrian Sound of Music) she is currently on tour with her band of four.
Quotes:

"Soia delivers sensual, abstract lyrics while effortlessly moving between spoken-word rhymes and melodic singing." - OKAYPLAYER / USA

"Soia & Mez have grown immensely over the years musically pushing the boundaries of soul & jazz within an electronically tainted spectrum. Brilliant Album!" - JAY SCARLETT / SOUND SUPREME / SPACEK

"Soia and Mez have had a unique musical vibe from the start, but on this record they truly came into their own. Trusting each others talents and instincts enabled them to expand their sonic universe while staying 100% true to their path." -TRISHES / RADIO FM4

Tracklisting:
A1 Run With Wolves
A2 Vacant Paradise
A3 My Tiny
A4 Hoe For Lov
e A5 Pancakes

B1 Looming Storm
B2 Pay For Pizza
B3 Guarding
B4 Fractal Spirits
Release Date:
2019
Label:
Beat Art Department
Genre:

Hip Hop

Warengruppe:

LP