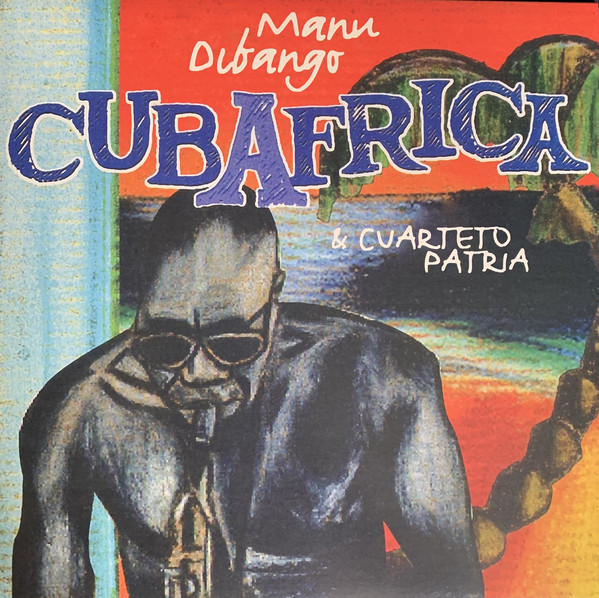 Manu Dibango - Cubafrica (RSD 21) (LP)
Info / Tracklisting: release for the record store day, 2000 copies on coloured vinyl
Produktinformationen "Manu Dibango - Cubafrica (RSD 21) (LP)"
Afro-cuban : that term which set the world on fire, from rumba to boléro, mambo to cha-cha-cha, before salsa, that 70's spicy sauce, took over from the others. But to speak truely, since the mists of times (of slavery), both Africa and Cuba aim to vamp that umbilical cord.
The most recent example, CubAfrica, a record born from the reunion of a master from Africa and this very living institution from Cuba, during a show around Albi (in the south of France) where they were both headlining in spring 1996. Manu Dibango's sax melted perfectly with the rural music of Eliadès Ochoa and his Cuarteto Patria, here's the beginning of an idea. Talking about latino music, Manu Dibango has an history with it. First, during the early 60's, from Douala to Abidjan and Paris, he was surrounded by as much cuban tempos as afro, and a lot of descarga, this typical afro-cuban jam sessions with a spicy jazzy touch, which were back in the circumstances back in the days. Later on, in the 70's, invited in Puerto Rico by the Fania All Stars, this dreamy salsa big band at its highest, Manu dressed his anthemic hit "Soul Makossa", for a show (and then a record) of anthology. There was nothing more natural for him than diving again in the cuban bath. This time, he crossed the sound barrier with this Cuarteto Patria, a standard combo in the cuban music, founded 60 years ago and handled by Eliadès Ochoa, this master of très the ancestral cuban guitar, in 1978. He just achieved another magic meeting, the one of Buena Vista Social Club' record, next to Compay Segundo, Ruben Gonzalez and Ry Cooder. In Paris, back from Albi, an idea started to tickle Manu, Eliadès and... Gilbert Castro, boss of Celluloïd-Mélodie. They high fived each other, been agree on the repertoire and then get to Davout studio the day after. They tweak the arrangements right at the studio with the help of Ernesto "Tito" Puentes and Hughes de Courson, Lambarena' producer. In two days, everything's almost ready. Jerry Malekani, Manu's guitar player will add a few things on it. CubAfrica is a seductive guided tour around the garden of latinos' classics, with that Creole' smell. Latinos but not only cuban, this record is a walk toward mexican Cielito lindo or Cerezo Rosa, this french sweet made by André Claveau and spiced by Perez Prado. A repertoire that even newcommers are able to hum, due to such a patrimonial status, spread by Cubans and their African partner in crime, round-shaping sounds for a spontaneous result: the black continent and the Caribbean island aren't on the edge of losing the bond between them.
Manu Dibango (born 1933) is a saxophonist, vibraphonist and pianist from Cameroon. He developed his own musical style by combining jazz with traditional Cameroonian music and the popular Cameroonian dance music Makossa.
He was born in Douala. Like his father, he belongs to the Yabassi ethnic group, while his mother was a Duala. As a student, he discovered jazz for himself in Chartres during the 1950s and learned to play the piano. In Reims, where he was preparing for his baccalauréat, he took up the saxophone and began performing in nightclubs, to the great chagrin of his father, who subsequently cut off his alimony in 1956.
Various contracts took him to Brussels, where he met Coco, his wife, to Antwerp and Charleroi. During this time, his jazz style became "Africanized" through contact with the Congolese milieu that emerged in Belgium as a result of immigration from Zaire before and after its independence in 1960. Joseph Kabasélé hired him for his orchestra Le Grand Kallé et l'African Jazz and recorded numerous records with him, which had great success in Africa and took them to Léopoldville, where Manu popularized the twist in 1962. Returning to Cameroon, on the other hand, proved difficult and Manu Dibango went to France again.
He had engagements with Dick Rivers and Nino Ferrer, big names of the time, but it was only after 1969 that he was able to continue his African successes with recordings of his own compositions.
In 1972 he conquered the charts in the United States with Soul Makossa (actually the B-side of the single Mouvement Ewondo). It was the first number-one hit by an African musician in the U.S., prompting Dibango to embark on his first tour, where he made numerous contacts with black musicians in the country. Inspired by African tribal music and contrasted with European church sounds, animated by jazz and soul from America, he succeeded with the album in the opinion of the London magazine City Limits in creating "smooth, impactful dance club music with catchy saxophone dressing." He fused traditional Cameroonian rhythms, Nigerian highlife pop, Congolese folk, Latin American cha-cha-cha and funk, reggae, hip-hop and bebop jazz sounds.
Soul Makossa also brought the Makossa style of music to prominence outside of Cameroon. The song is also considered by some to have paved the way for the emergence of disco music. The refrain, "mama-se, mama-sa, ma-ma-ko-ssa," was used by Michael Jackson in his 1982 song Wanna Be Startin' Somethin', and in 2006 in Rihanna's equally hugely successful song Don't Stop the Music; Manu Dibango has filed copyright lawsuits against both singers. The song was also sampled on Wyclef Jean's 1997 album The Carnival.
This launched a career that made him famous worldwide. In particular, the boom of world music in the 1990s boosted his popularity and took him on numerous tours.
Manu Dibango has worked with numerous musicians throughout his career, including Fela Kuti, Herbie Hancock, Bill Laswell, Bernie Worrell, Youssou N'Dour and reggae musicians Sly & Robbi
Cuarteto Patría is one of the leading musical groups in Santiago de Cuba. It was founded in 1939 by Francisco Cobas la O (Pancho Cobas), director, with Emilia Gracia, Rigoberto Hechaverría (Maduro) and Rey Caney (Reinaldo Hierrezuelo la O). The original style was traditional trova, with boleros and some música campesina (countryside music). In due course, the members and the music changed. By far the greatest change was the arrival of Eliades Ochoa, who has proved to be an inspired choice.
Ochoa was invited by Cobas to become leader in 1978, and, before accepting, he got agreement to introduce new musical works into the repertoire. At that time Cobas continued with the group, and Hilario Cuadras and Amado Machado joined. Ochoa introduced the son as the staple diet of the group, and beefed up the percussion to balance the guajiro content with an African element. Even more important was his personal qualities. He is a truly outstanding acoustic guitarist, with a warm singing style. For all that, it took a long time for music lovers outside Cuba to hear about the group. In the series of albums Ochoa played an increasingly prominent part, and this was reflected in increased sales for the Cuarteto Patría albums, and in many foreign tours for the man and his group.
Tracklisting:
1. Cielito Lindo
2. Promesa
3. Rumba Makossa
4. Son De La Loma
5. Cerisiers Roses Et Pommiers Blancs
6. Yerberito
7. Quizas, Quizas, Quizas
8. Carnaval
9. Manicero
10. Paralitico
11. Cosita Linda

Release Date:
2021
Label:

Soul Makossa

Genre:

Latin

Warengruppe:

LP