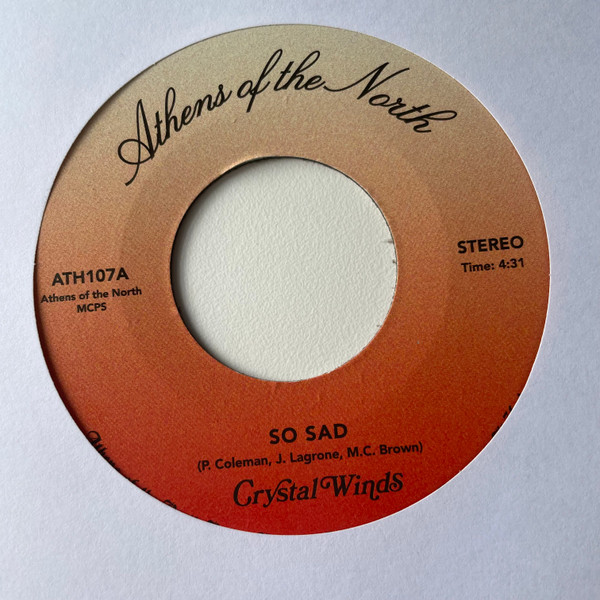 Crystal Winds – So Sad / Maybe What You Do Comes Back On You (7")
Info / Tracklisting: a: So Sad



b: Maybe What You Do Comes Back On You

Produktinformationen "Crystal Winds – So Sad / Maybe What You Do Comes Back On You (7")"
Crystal Winds legendary sophisticated soul LP first released on the privately pressed Cash Ear label in 1982, it's mad to me these amazing tracks have never made it to 45 yet so time to put that right, the classiest of classy 70s soul sides for your Djing and listening pleasure, you all know how much I love floaty 70s joints, not sure it gets better than this.

The key figures behind Crystal Winds were Paul Coleman and M.C. (Morris) Brown, both alumni of the band Rasputin's Stash which had had two albums out in the mid-'70s which had done reasonably well for Atlantic subsidiary Cotillion and Chicago indie Gemigo, respectively.

Between them, keyboardist Coleman and saxophonist Brown wrote the vast bulk of the album (guitarist Martin Dumas co-wrote Lover's Holiday with Brown, and one J.Lagrone is added to the credits of So Sad and Signs of Winter's Time) and handled the male lead vocals, with the distaff element provided by Theresa Davis. Brown wrote the horn arrangements, the pair did the string arrangements, and legendary concertmaster Rich Tufo (associated with Curtis Mayfield and other Curtom acts including Linda Clifford) was also on hand for the album (credited with conducting and orchestrating both strings and horns). Guitarist Dumas had also been a member of Rasputin's Stash, as had drummer E.Frank Donaldson (who plays on two tracks).
Tracklisting:
A So Sad
B Maybe What You Do Comes Back On You
Release Date:
2021
Label:
Athens Of The North
Genre:

Funk/Soul

, Soul

Warengruppe:

7"