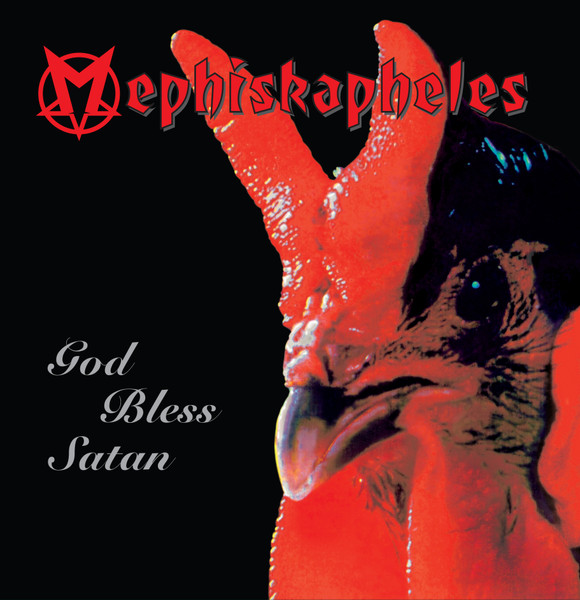 Mephiskapheles - God Bless Satan (LP)
Info / Tracklisting: Hot ska played by black souls…
ltd. vinyl re-issue of their 1st album from 1994, originally on Moon Ska NYC
Produktinformationen "Mephiskapheles - God Bless Satan (LP)"
Combined you recieve a lethal dose of the Mephiskapheles, a satanic ska band from the spooky streets of NYC. Sadly as you read this, these tenebrous souls have unfortunately broke up. Future projects are unbeknownst to me, but I did recieve a letter from the head grotto master of the Church of Satan's Man In Black grotto of NYC, Andres Shellinger (of the oi! band the Press) and he states that the next project from these guys will most definately another satanic one. So, back to this LP. God Bless Satan is their first effort and a remarkable one at that. Jazzy lounge ska and spooky organ lace this release with a unique sound that could catch your eye even if they didn't have their infamous schtick. The Nubian Nightmare's voice is remarkably unique but still nothing too out of the ordinary. Sometimes he sounds like something out of an Izuzu commercial but you still have a good time, especially when you find yourself singing to favorites like "Bad John", "Doomsday" and "Eskamo". Okay,okay isn't this a punk web site? Well after two more LP's the Mephiskapheles experimented a little more towards ska-core, or hardcore, if you may. Either way this is one of the better ska albums to ever come out of NYC.

So if you don't like this album you don't like ska. A must for Billy Graham fans worldwide. Not for fundamentalists.

Hail Satan!
Published puke13 Mar 12 2020
D-O-G-G-O-D!D-O-G-G-O-D!

The first words you here as you are launched into the experience that is God Bless Satan.
This is a near perfect album, definitely one of the greatest and most interesting in the genre of ska. Mephiskapheles creates a goofy yet dark atmosphere on this album, songs like Satanic Debris, Hard Times, and Dance Me Not being on the more serious side of things, and then there is The Bumble Bee Tuna Song which is so god damn silly I was almost embarrassed to listen to it the first time i heard it. Like the rest of the album, that song slowly grew on me, and i just cant help but smile a little waiting for the chorus to kick in. Instrumentals are very traditional third wave ska and a horn section that plays some avant-garde solos that slowly grow on you the more you listen to it. The songs on here are a bit lengthy and some do go on a little too long (Saba especially) but otherwise this album is worth putting the time into and is a rewarding listen.
Published frippery19 May 11 2008
This was the first ska album i ever bought and it changed my life. The skill level of each of the members of the band is light years beyond 99% of the ska crap that is out there now.
Published SellMeAGod Dec 11 2006
Judgment, definitely, incessant. Those 3 words were once thee hardest words to spell that I regularly typed. Add Mephiskapheles, now.


Fun, feelgood music with those upbeats 'n' brass instruments that defines 3rd wave ska revival. Add some dark comedy 'n' obnoxious behavior...& yeah, I suppose it's still pretty much just like 3rd wave. Good, tho.
Published goatlipss Sep 04 2004
If I was asked to compile a list of must hear third wave ska records, this bizarre sonofabitch would be right near the top. While not my favorite third wave ska record, Mephiskapheles created an outstanding, unique, evil opus to debut with.


After getting past the faux satanic imagery (primarily a couple song titles and their hilarious album cover), these dark lords kick that shit with warped ska riffs, skankable riddims, and a surprising amount of horn wanking (wait, wanking is with guitars, right? is noodling a better term?). The solos are almost a bit too much, but Mephiskapheles has a solid enough brass section to barely pull it off.

The songs are a bit lengthy, but it's worth your patience. Especially when you get to the end and can finally let loose singin' and skankin' along to "The Bumble Bee Tuna Song" (hee hee)!
Tracklisting:
A1 Mephiskapheles
A2 Satanic Debris
A3 Bad John
A4 Center Of The...
A5 Hard Times
A6 Doomsday
A7 Rank & FIle

B1 Eskamoes
B2 Saba
B3 The Ballad Of Admiral Stockdale
B4 Danse Me Not
B5 Finnigan Froth
B6 The Bumble Bee Tuna Song
Release Date:
2018
Label:

Jump Up!

Genre:

Reggae

Warengruppe:

LP