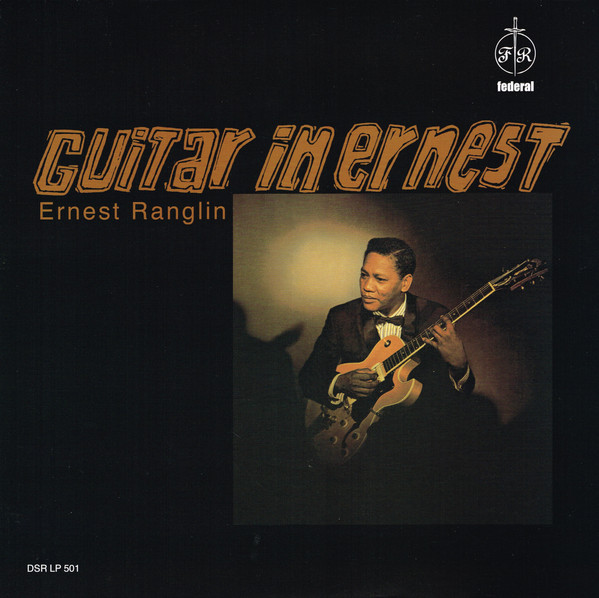 Ernest Ranglin - Guitar In Ernest (LP)
Info / Tracklisting: Jamaican Jazz
Produktinformationen "Ernest Ranglin - Guitar In Ernest (LP) "
  Not only an internationally acclaimed jazz guitarist Ernest Ranglin is also another of the architects and builders of modern Jamaican music.

  Born 19th June 1932 in the parish of Manchester where his grandmother, Estella Campbell, was an organist in the Adventist Church and two of his uncles, Sydney and Lester Campbell, both played the ukulele and, at the age of six, Ernie built his own instrument using a sardine can and fishing line. He taught himself to read music and moved to Kingston, where he received his formal education, and began performing live often alongside another musical prodigy piano maestro Monty Alexander. At the age of fifteen he joined the Val Bennett Band and then went on to play with the Eric Deans Band where his restrained Charlie Christian influenced style was a major contributory factor to the popularity of these Jamaican jazz legends.
  During the fifties, like so many of Jamaica's jazz musicians, Ernie toured overseas but he also stayed and played at home where he recorded in the traditional mento style. He was one of the legendary musical maestros that the sound system men turned to when they started to make their own recordings in the latter half of the decade. His innate musical abilities, and his ability to turn his hand to any style, meant that he was behind more records than even he could care to remember. As an un-credited member of Clue J And His Blues Blasters he played on many of the first Jamaican rhythm and blues records including the seminal 'Shuffling Jug' and Theophilus Beckford's 'Easy Snapping' for Clement 'Coxsone' Dodd(CS Dodd). And as one of The Granville Williams Orchestra he resurrected 'Honky Tonk Ska', their ska update of Bill Doggett's rhythm & blues 'Honky Tonk' from 1956, to an entirely different, totally thrilling level.

  Arriving in London in late 1963 he astounded the local jazz musicians with his brilliant technical command and by "his possession of the kind of poise in his playing which can only be born of long experience" and became the resident guitarist at Ronnie Scott's internationally renowned Jazz Club where he backed countless guest artists. While in the UK he masterminded Millie Small's (as Millie) 'My Boy Lollipop'. It was the first ska crossover hit record reaching Number Two in the UK Charts early in 1964 and Chris Blackwell usually gets the credit for turning Barbie Gaye's rhythm & blues original from 1956 into a ska flavoured crossover hit. However, it states "Accompaniment Directed by Ernest Ranglin" on the Jamaican Beverley's(Beverleys) release of 'My Boy Lollipop'. It might well have been Chris Blackwell's business acumen and realisation that ska music could bust big internationally but it was Ranglin's genius that transformed Barbie Gaye's rampant R&B stormer into a Jamaican record... although it was recorded in London! It was another indication of Ernest Ranglin's genius and his ability to assimilate all styles, to mix and match and to make them into something unmistakeably original.

  On his return to Kingston Ernest was contracted by Ken Khouri as in-house arranger at Federal and he also released a series of solo albums including 'Mod Mod Ranglin' for Federal Records. Throughout the sixties and seventies he freelanced for many of the island's top producers including Prince Buster, Leslie Kong at Beverley's(Beverleys), Clancy Eccles, as one of Lee Perry's Upsetters and, perhaps most notably of all, at Studio One where his recordings were inevitably superb. His un-credited contributions to records such as The Wailers' heart breaking 'It Hurts To Be Alone' (which features two of the most understated, yet intensely moving, guitar solos ever recorded over two separate takes) were works of untrammelled, undisputed genius. His fluid guitar lines were laid over many of Coxsone's foundation rhythms: 'Love Me Forever' entitled 'West Of The Sun', turning Ernest Wilson's 'Undying Love' into 'Straight Flush' and creating original masterpieces such as the ethereal, haunting 'Surfin'' and transforming the spiritual 'Walls Of Jericho' into 'Jericho Skank'. On their original release these outings were often credited to Studio One house bands such as The Soul Vendors or Sound Dimension but Ernest Ranglin's arrangements and solos finally received their rightful billing when they were compiled for the Studio One Compact Disc release 'Sounds & Power'.
  Never short of work as a session musician Ernest Ranglin also found the time to work on many of his own jazz projects. In 1996 he reunited with Chris Blackwell for the sublime 'Below The Bassline' album, an Island Jamaica Jazz release, with Ernest revisiting and reinterpreting what had now become standards of a genre he had played a major role in helping to create including updates of 'None Shall Escape The Judgement' and 'Cassava Piece'. Never unafraid to try new directions in 1998 he teamed up with a number of West African musicians including Baaba Maal for 'In Search of the Lost Riddim'. The album was marvellous and the subsequent tour was even better; the stage shows were riveting and proof, if any further proof was really required that Ernie Ranglin was one of the most accomplished musical polymaths of his generation totally at ease everywhere on whatever rhythms or styles were presented to him. His recent shows in Tokyo (November 2011) alongside Sly & Robbie, the Rhythm Twins, were yet another triumph in a career that has now spanned sixty years.
  In a genre too often dismissed as lacking in musical talent Ernest Ranglin is an all round musical genius who blatantly belies this incorrect, glib assumption. He was awarded the Order of Distinction by the Jamaican Government in 1973 for his contributions to music and he was awarded an Honorary Doctorate Degree from the University of the West Indies in 2002 for his outstanding contribution to the development of music in Jamaica. In 2008 he was inducted into the Jamaican Music Hall of Fame by the Jamaica Association of Vintage Artistes and Affiliates. Gifted and talented Ernest Ranglin is the epitome of consummate professionalism whose quiet demeanour and self effacing personality are in direct contrast to his manifest talents. A true original and a truly great artist his influence on the development and content of Jamaican music is second to none.
When asked by Benny Green in the early sixties who his favourite guitarists were he smiled and answered "All of them..." but if any of the many Jamaican artists and musicians who followed in his footsteps were asked the same question their answer would surely be "Ernest Ranglin".
Tracklisting:
Page ONE
A1) Soul De Ern
A2) Cherokee
A3) Erest's Tune
A4) Green Dolphin St.

Page TWO
B1) Jordu
B2) Ernest's Delight
B3) One For Robby
B4) Angelima
B5) Chow Mein
Release Date:
2004
Label:

Dub Store Records

Genre:

Rocksteady

Warengruppe:

LP